Late Season Stalk Rots in 2019
Craig Langemeier, Western Product Agronomist
September 24, 2019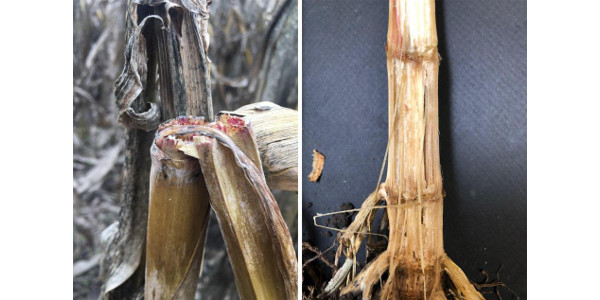 In Hoegemeyer's footprint, we started out 2019 with a cold finish to winter and a late start to planting season due to all the flooding and excess moisture. Most areas of Nebraska received more rainfall than needed during the growing season leaving just a few dry areas. Most of the state caught rain in the last week and they are calling for more later this week, resulting in an increased chance for below average stalk quality for harvest.   
There are two main culprits I have seen this growing season including Fusarium verticilliodes and Anthracnose stalk rot and top dieback. Fusarium is most commonly seen when we have dry conditions early and normal precipitation later in the growing season. Symptoms are a white color on the stem around the node, decayed pith tissue inside the stem while the vascular bundles stay intact, and a pink to salmon color inside the stem. The second pathogen I have seen above average incidence of is Anthracnose.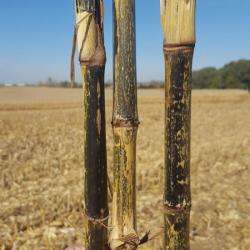 The pathogen that causes Anthracnose infects in two ways. The first is anthracnose top dieback, and this form typically doesn't have a major impact on yield. Anthracnose stalk rot on the other hand can cause significant yield loss. Symptoms of this phase include black discoloration under the leaf sheath on the stems and a brown discoloration at the nodes. This will lead to lodging later in harvest. 
So how do I know which fields are affected? First check both the stalk strength and anthracnose ratings in your Hoegemeyer seed guide. Checking all fields would be best, but if time is of concern start with fields that have lower ratings in the seed guide.
To test stalk strength this time of year we can do a simple push test. 
Stand next to a corn plant and put your arm from your hand to your elbow parallel to the plant.
Simple extend your arm out and see if the plant breaks off below the ear or is the plant able to continue standing.
This should be done in five different areas of the field, 20 plants at a time. If you have 10 to 15 plants that break you may want to harvest that field first.
If you have any questions, feel free to contact your local Hoegemeyer agronomist or dealer.