In-Crop dicamba label changes result in new buffer requirements
Hoegemeyer Hybrids
May 28, 2021
What you need to know
One of the biggest changes to the in-crop dicamba herbicide labels involves downwind buffers. In comparison to Enlist™ herbicides, in-crop dicamba herbicides have always required larger buffers, but the new labels increase these and impose new restrictions for endangered species areas.
Here are the high points of the new restrictions, and information comparing the Enlist™ system with dicamba-based systems.
Downwind Buffer requirements for sensitive areas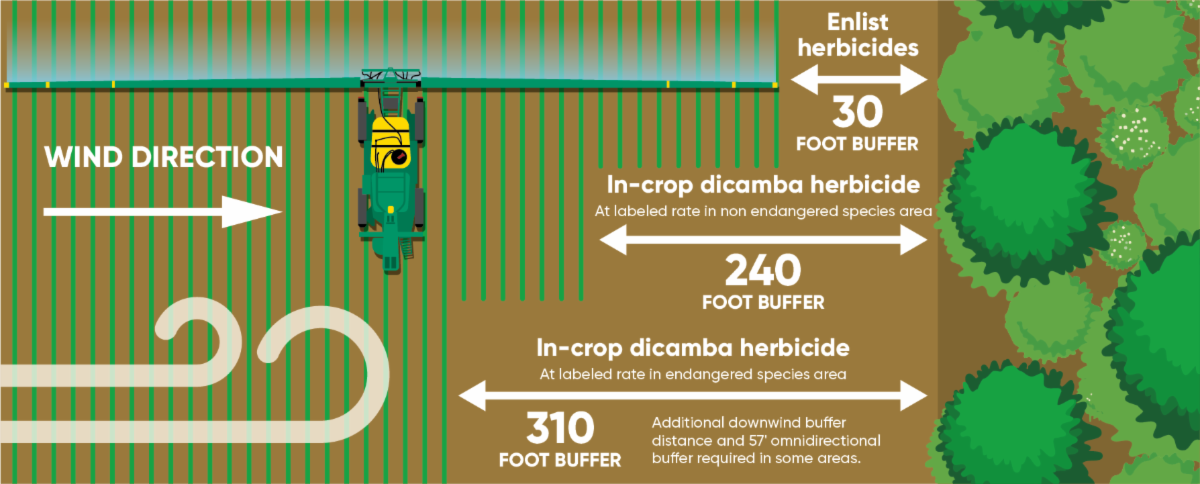 The Enlist system simplifies soybean field planning
In addition to smaller buffer requirements, Enlist herbicides are compatible with a number of key crops including soybeans without the Enlist trait.
Adjacent soybeans

Soybean sensitivity to dicamba
For farmers with adjacent non-dicamba-tolerant soybeans – whether in their own fields or their neighbors' – potential dicamba injury is a real worry.
The natural ability of soybeans to withstand exposure to small amounts of 2,4‑D is why soybeans are NOT defined as a susceptible crop on the Enlist herbicide labels, and why you can spray even when the wind is blowing toward non-Enlist E3® soybeans.
Soybean Crop injury comparison: traditional dicamba vs. tradition 2,4-D1
In a study replicating potential soybean crop injury from drift of traditional forms of dicamba and 2,4-D, researchers found that to reach a level of significant injury seen with dicamba required 33X the amount of 2,4-D. In the study, the maximum yield loss observed with 2,4-D was 65%. Yield losses with dicamba were as high as 100%.1 
For customers weighing their options in soybean weed control systems, a discussion around field planning complexities, adjacent sensitive crops and buffer zones can help highlight the differences between systems and guide customers to the choice that fits best with their farm and management practices. For additional information on labels, contact your local Hoegemeyer agronomist.
You can also find more information about buffer requirements at Enlist.com. Keep in mind that individual states may also require additional application restrictions.