Making a Plan for Drought-Stressed Corn Silage
Eric Solberg, Eastern Product Agronomist
July 23, 2020
Corn silage harvest will soon be in full swing in the Western Corn Belt.  Livestock producers should be aware of the potential for excess levels of nitrates due to the prolonged moisture stress, high temperatures and low humidity during this year's growing season to date.  According to the National Drought Monitor (figure 1) much of the Hoegemeyer footprint has experienced drought-like conditions.  Here are a few tips when evaluating your crop before harvesting for silage.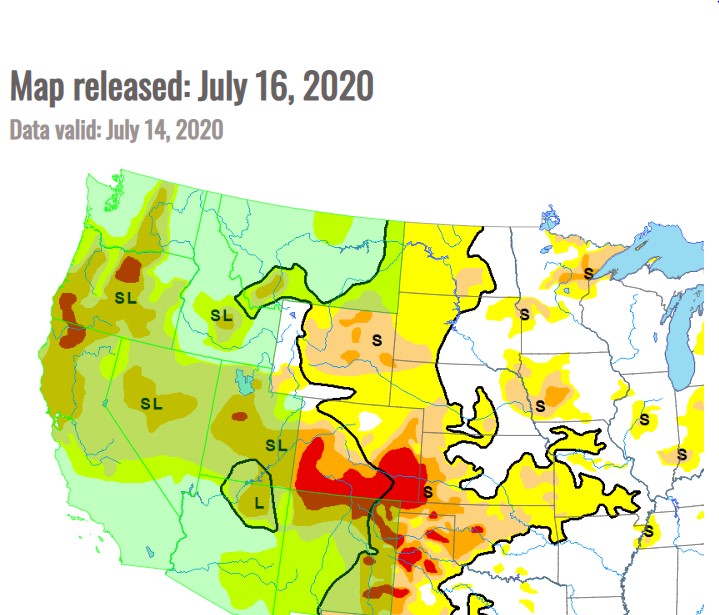 Management Tips
What conditions lead to increased Nitrates?
Heavy nitrogen fertilization or manure application.  The more nitrogen that is available, the greater the potential for increased nitrate accumulation.
Rainfall after prolonged moisture stress just prior to harvest can increase the levels of nitrates in plant materials.  To minimize risk, wait two weeks before harvesting the silage.
Cloudy weather will increase the potential for nitrates due to reduced activity by enzymes that convert into amino acids and later proteins.
Deficiencies of nutrients such as phosphorus (P), Potassium (K), Molybdenum (Mo), and Manganese (Mn) increase the concentrations of nitrate.  Root uptake of nitrate continues, but growth is limited causing nitrates to accumulate.
Frost damage on all corn, including droughty corn, can have elevated levels of nitrates in harvested corn two to six days following a heavy frost.  Silage following heavy frost conditions should be tested and treated the same as drought-stressed corn silage.
Producers making plans to harvest corn silage due to drought damage should be aware of major issues associated with nitrate accumulation in the plants.  High producing corn hybrids having high amounts of nitrogen fertilizer and manure application prior to drought conditions will be prone to excess nitrate in the harvested corn silage.
Ensiling corn silage will reduce the levels of nitrates in the plant materials by 1/3 to ½ during the ensiling process.  However, even with corn silage stored in bunker silos for several weeks, it is difficult to predict levels of nitrates in drought-stressed corn silage.
 In figure 2 (below) are nitrate levels and guidelines for specific levels.  The problems associated with high nitrate levels in corn silage include possible asphyxiation and death of animals consuming excess nitrates.  Foundering, especially dairy cows, can cause lameness and other serious problems.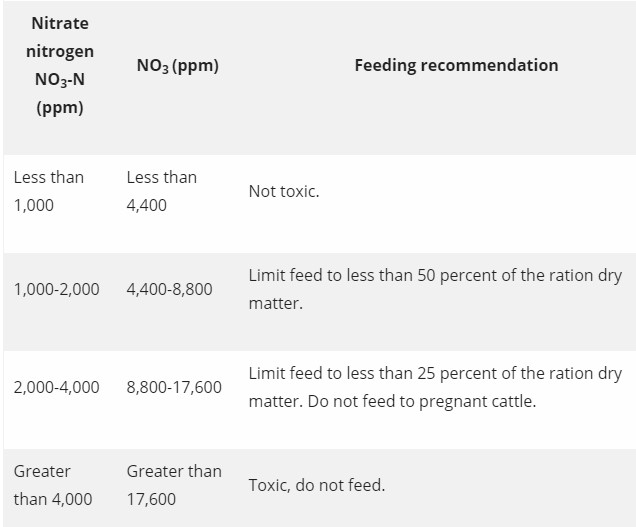 If the drought conditions continue across parts of the Western Corn Belt, please be aware of the potential dangers of high nitrate levels in corn silage.  If you have any questions about this topic or on what Hoegemeyer Silage Max hybrids you should be harvesting, please contact your local Hoegemeyer product agronomist.