Stress Emergence in Corn
Stuart Carlson
April 21, 2020
Impact of Cold Stress on Stand Establishment
The optimal temperature for corn emergence is in the range of 80° to 90° Fahrenheit. Emergence is greatly reduced at lower temperatures and is effectively halted around 50° to 55° Fahrenheit or below. Since soil temperatures in the early season are almost never optimal, emerging seeds will experience a degree of stress. The degree of stress, and potential damage from stress is determined mostly by soil and water temperatures during imbibition and seedling emergence.
For successful emergence to occur, all parts of the shoot (roots, mesocotyl, coleoptile and leaf within) must work in a coordinated way to push the coleoptile above the soil surface and allow the first leaf to unfurl. Damage to any one of these structures will likely result in loss of the seedling and its yield potential.
The Critical First Hours
When the dry seed imbibes cold water (typically 50° F or below), imbibitional chilling injury may result. The degree of damage ranges from seed death to abnormalities such as corkscrews or fused coleoptiles.
The potential for cold-water damage generally decreases as the seedlings emerge. It also decreases if the initial imbibition takes place at temperatures above 50° F. This may help explain observations where early-planted corn, which was followed by favorable weather, emerged better than corn planted later and followed by a cold spell.
Damage to the emerging root usually has less severe consequences on seedling survival. This is because the primary root, which is the first structure to emerge, plays a relatively minor role in seedling establishment compared to the lateral and nodal roots. Seedling establishment can usually progress normally if the lateral and nodal roots are intact. Any damage to the roots, however, will likely reduce vigor and increase the potential for disease and insect injury.
Seedling Disease and Stress Emergence
Stress emergence is an agronomic trait intended to reflect genetic variability for tolerance to abiotic stress in the early season. It is not a rating for disease resistance. Early-season stress can promote seedling disease if certain conditions are met, including inoculum presence and prolonged cool, wet conditions. Injury to emerging seedlings will also promote seedling disease. Injury can be caused by chilling, such as imbibitional damage, or by feeding of insects such as seedcorn maggots, white grubs and wireworms.
In environments with heavy inoculum pressure, disease progression is often in a race with seedling growth. Conditions that promote rapid soil warming will generally favor seedling growth and reduce disease incidence. On the other hand, extended cool, wet conditions will generally favor disease progression.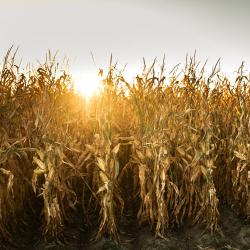 Many soil pathogens, including some Pythium species, are most active at temperatures in the 40s and 50s (F). Low temperatures such as these can injure emerging seedlings and facilitate infection. Low temperatures also retard stand establishment and increase the window of vulnerability to infection. Seed treatment fungicides generally provide good efficacy against target organisms for 10 to 14 days after planting. However, protection will be diminished if emergence and stand establishment are delayed beyond this period.
Summary
Successful stand establishment requires understanding and managing risks. Early-season damage is difficult to diagnose since most of it occurs before the crop emerges. The best management strategy is to understand the conditions and environmental factors that can cause stand reduction and to minimize exposure to these adverse environments.
Deciding when to plant is probably the factor with the largest single impact on stand establishment. The risk of damage to emergence is greatest if the crop is planted into very cold soil or if planting is followed by severe cold weather. Often, planting date is dictated by workload and field conditions. If a cold spell is expected after planting, it is advisable to plant fields with better drainage and less residue first. Choosing hybrids with strong stress emergence helps reduce genetic vulnerability to stress, and planting seeds with a premium seed treatment helps provide critical protection in stressful environments where seeds are vulnerable to attack.