Hoegemeyer Hybrids Announces 2022 Scholarship Recipients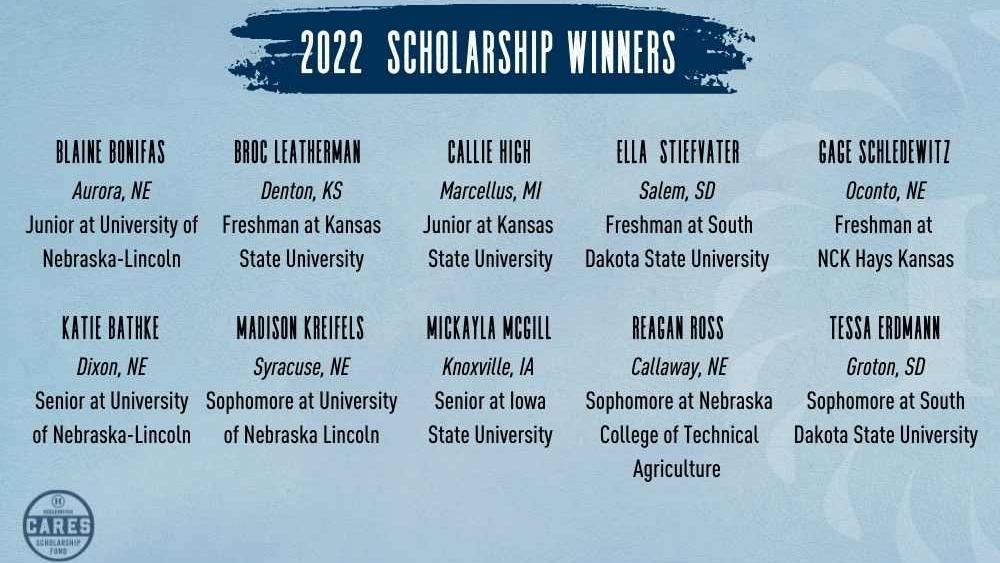 Hooper, NE – Hoegemeyer Hybrids is excited to announce the recipients of its 2022 Hoegemeyer Cares Scholarship: Katie Bathke, Madison Kreifels and Blaine Bonifas from the University of Nebraska-Lincoln; Tessa Erdmann and Ella Stiefvater from South Dakota State University; Callie High and Broc Leatherman from Kansas State University; Mickayla McGill from Iowa State University; Reagan Ross from Nebraska College of Technical Agriculture; and Gage Schledwitz from North Central Kansas Technical College. Each student will receive a $500 scholarship for the 2022-23 academic year to further their education and advocacy for the agriculture industry. 
Katie Bathke is a senior at the University of Nebraska-Lincoln majoring in Plant Biology with an emphasis in Ecology and Management and a minor in Precision Agriculture and Agronomy. She is the daughter of Marc and Cristy Bathke of Dixon, NE. Katie has served as an ambassador for the Cultivate ACCESS program through UNL. Through her involvement with this organization, she was able to work with high school students and teach them more about careers that are related to STEM programs. Upon graduating, Katie plans to attend graduate school to receive her master's degree. Her overall goal is to own a business that focuses on providing digital agricultural services to agronomic companies. 
Blaine Bonifas is a junior at the University of Nebraska-Lincoln majoring in Agronomy. He is the son of Greg and Barb Bonifas of Aurora, NE. Blaine grew up actively involved in agriculture, from being in FFA and soil sampling many acres. Blaine's passion for agriculture has developed and grown through his time being surrounded by other farmers. While attending UNL, he has been able to learn more about crop production, which helped him to choose his career path. Upon graduating, Blaine plans to return to a rural community in Nebraska where he plans to own a business in agronomy/ precision agriculture.  
Tessa Erdmann is a sophomore at South Dakota State University majoring in Ag Communications and Ag Business with a minor in Marketing. She is the daughter of Darrin and Julie Erdmann of Groton, SD. Tessa grew up on a family farm where she was highly active in FFA and showing cattle. In FFA, Tessa served as the South Dakota State FFA Association President. Upon graduating, Tessa plans to stay active in the agricultural industry either in the crop insurance industry or as a news anchor for RFD-TV. 
Callie High is a junior at Kansas State University majoring in Agronomy: Consulting and Production. She is the daughter of Josh and April High of Marcellus, MI. Callie grew up on a row crop operation run by her father and grandfather. One of the experiences she had growing up was checking crops to make sure that the crops would reach their full potential. Through the livestock industry, Tessa was able to help younger showmen learn more about their livestock and how to properly take care of them. Upon graduating, Callie plans to raise livestock and work with a company in the agronomy consulting field. 
Madison Kreifels is a sophomore at the University of Nebraska-Lincoln majoring in Agricultural and Environmental Sciences Communication and minoring in Engler Agribusiness Entrepreneurship. She is the daughter of Matt and Sarah Kreifels of Syracuse, NE. Madison grew up in the crop industry and started her own business selling sweet corn to her community. She is very passionate about teaching agriculture to high school students and has been a part of the Nebraska Agricultural Youth Council. Through this organization, she has been able to travel around Nebraska and teach youth about agriculture. Upon graduating, Madison plans to start her own agricultural marketing communications business.  
Mickayla McGill is a senior at Iowa State University majoring in Agriculture and Life Sciences Education: Agricultural Communications. She is the daughter of Mickal and Erica McGill of Knoxville, IA. Mickayla has been active in FFA throughout high school and now during her college years, serving as the State President for the Iowa FFA Association. Through this experience, she was able to develop her communication skills as well as her leadership skills and advocate for the agricultural industry. Upon graduating, Mickayla plans to work for an agriculture-based company on their communications team.  
Ella Stiefvater will be a freshman at South Dakota State University this fall majoring in Agriculture Communications. She is the daughter of Mike and Carie Stiefvater of Salem, SD. Ella has been very active in FFA and 4-H. FFA has allowed her to grow in her leadership and communications skills and to practice her research techniques to help grow her writing skills. Upon graduating, Ella plans to become an agriculture reporter, establish a livestock operation and start a photography business. 
Broc Leatherman will be a freshman at Kansas State University this fall majoring in Agronomy with a minor in Precision Ag. He is the son of long-time Hoegemeyer customers Ben and Jodi Leatherman of Denton, KS. Broc has always had a passion for agriculture. This has allowed him to become very active in his local and state 4-H programs. Through 4-H, he has served as president and as a leader for other youth, sharing his agriculture knowledge with them. Upon graduating, Broc plans to become an agronomist so he can share his knowledge and serve fellow farmers.  
Reagan Ross is a sophomore at Nebraska College of Technical Agriculture, majoring in Agronomy. He is the son of Hoegemeyer seed dealer Vaughn and Stephanie Ross of Callaway, NE. Reagan grew up on a row crop farm and showing livestoc. Being in the agriculture industry has allowed Reagan to meet many new people, as well as learn more about the industry. Upon graduating, Reagan plans to return to his family's operation and to put what he learned in college to use to help grow their operation.  
Gage Schledewitz will be a freshman at North Central Kansas Technical College in the fall, majoring in Construction Management or Electrical/HVAC. He is the son of Dave and Kelli Schledewitz of Oconto, NE. Through FFA, he was able to find his passion for agricultural mechanics and looks forward to using what he learned there to help him in the future. Gage looks forward to putting what he learns at school into action in the future.  
"Students studying agriculture are very driven and talented and we want to be able to support them," says Hoegemeyer general manager Jeremy Thompson. "This year, we received more than 200 outstanding applications for this scholarship, and we are excited to be able to provide support for students to continue their education." 
Hoegemeyer is beyond proud to be able to support students continuing in the agriculture field and to see the significant impact they make on the industry. We are incredibly pleased with the outstanding individuals who applied for this opportunity.  
The primary target for this scholarship is high school seniors or college students who are pursuing a degree in agriculture, either at a two-year or four-year institution. Hoegemeyer plans to award ten $500 scholarships for the 2023-2024 school year. Interested students can check our website, www.therightseed.com, for scholarship applications starting in January 2023.   
---
About Hoegemeyer Hybrids 
Founded in 1937, Hoegemeyer Hybrids serves farmers with seed products specifically chosen for exceptional performance in the Western Corn Belt. For more information on Hoegemeyer Hybrids, including the company's complete line of corn, soybeans, sorghum and alfalfa products, visit www.therightseed.com.